Study the past if you would define the future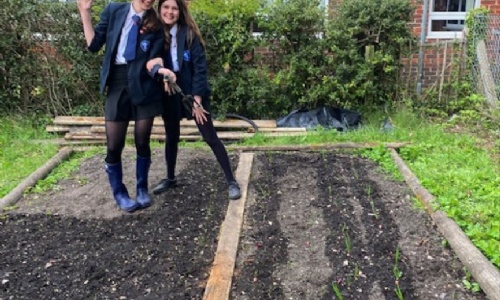 In my first year of teaching, I was lucky enough to have a committed Deputy Head who acted as my mentor. This wise man presented me, after a challenging piece of feedback he'd given me, with one of those twee motivational posters I'm sure you've all seen before of a suitably grand image captioned below with a motto intending to engender some particular ideal.
In this case, it was a picture of people lying on the ground looking at a particularly clear night sky and Milky Way with a quote from Confucius captioning it 'Real knowledge is to know the extent of one's ignorance.' At first a very cocky and cynical twenty-two year old me thought this man was full of nonsense, but being suitably ambitious and wanting to suck up to 'the boss', I put the poster on my classroom wall. Over the coming days and weeks I thought more and more about that quote. It soaked into me and after a lot of reflection, I realised that actually, as I've probably said to you all before, nothing is to be feared, it is only to be understood better. He was trying to make me understand that we can all be better teachers. We can all be better people.
I have now worked at Park House for nearly 13 years and while I don't miss the problems that came with being a young teacher (I do miss the waist line that I had when I was that young man), I certainly understand that sentiment all the better.
Park House has gone through a tumultuous period over the last few years. Like all schools the pandemic had us confront problems in delivering the curriculum we never had to experience before, and left an aftermath we still continue to address in lost learning, behaviour and social skills. At the same time, changes in leadership and Trust have caused uncertainty that we are only just settling now.
Why do I tell you all of this so frankly?
As you will have seen recently we have had an Ofsted report that reflects these challenges and none of this comes as a surprise to me. All year I have talked to staff about the journey we are on to regain the ground that we previously, and comfortably, held as a good school. The challenges around staffing have remained at times, but the resolve of long term members of our community, and the new blood of the Academy Board, to ensure that we quickly recover has been something which has defined our journey over the last few terms, and the terms that will come. Over recent months it has become more and more certain that we will be making an incredibly positive move to Greenshaw Learning Trust and I speak for all staff (and Academy Board members) that have visited their schools and worked with their staff, to say that the positive learning environments that we have seen there is something that we know Park House will easily adapt to, and the young people of our community will benefit from.
Someone far more eloquent than me once sang that 'it's been a long road, getting from there to here.' I hear those words a lot in my head at the moment. As someone who believes in this community, who has worked with countless other colleagues, families and young people over many years, I know that we can reflect on our past and use it to define our future. For it will be our future, whether we want it to or not, so we must ensure for our young people and for ourselves, that is what we want it to be. And for those of you wondering, the Confucius poster is still on my office wall to this day.
Mr Crabbe, Interim Principal
Changes to Inset Days
As the move to being a Greenshaw Learning Trust school becomes more and more certain, they have requested that we alter our previously published term and INSET days for the remainder of the academic year and for next academic year.
As a result of this, please note that the last two days of term, Monday 18 and Tuesday 19 July will now be staff INSET days, and that the last day of term for students will be Friday 15 July instead.
This will enable staff training to take place to allow for a smooth transition to being a GLT school and a successful start to the next year for all students.
Further changes will be made regarding the INSET days for 2022-23 over the coming weeks and these will be communicated to you as well.
During the course of today our school website will be updated to reflect these changes.
Food and Nutrition container request
Ms Morgan still needs any large, plastic sweet, cracker or biscuits tubs please to enable us to provide containers to students who have forgotten or are unable to provide their own containers to transport their food home.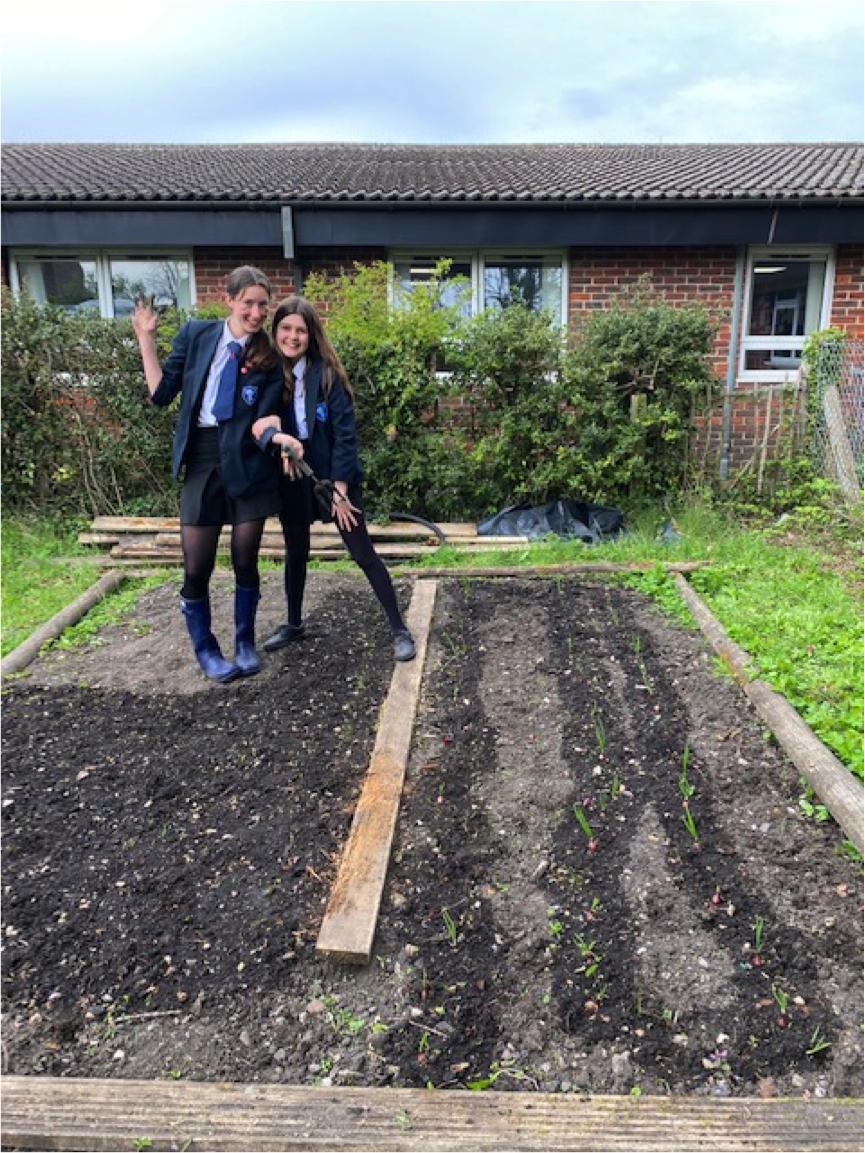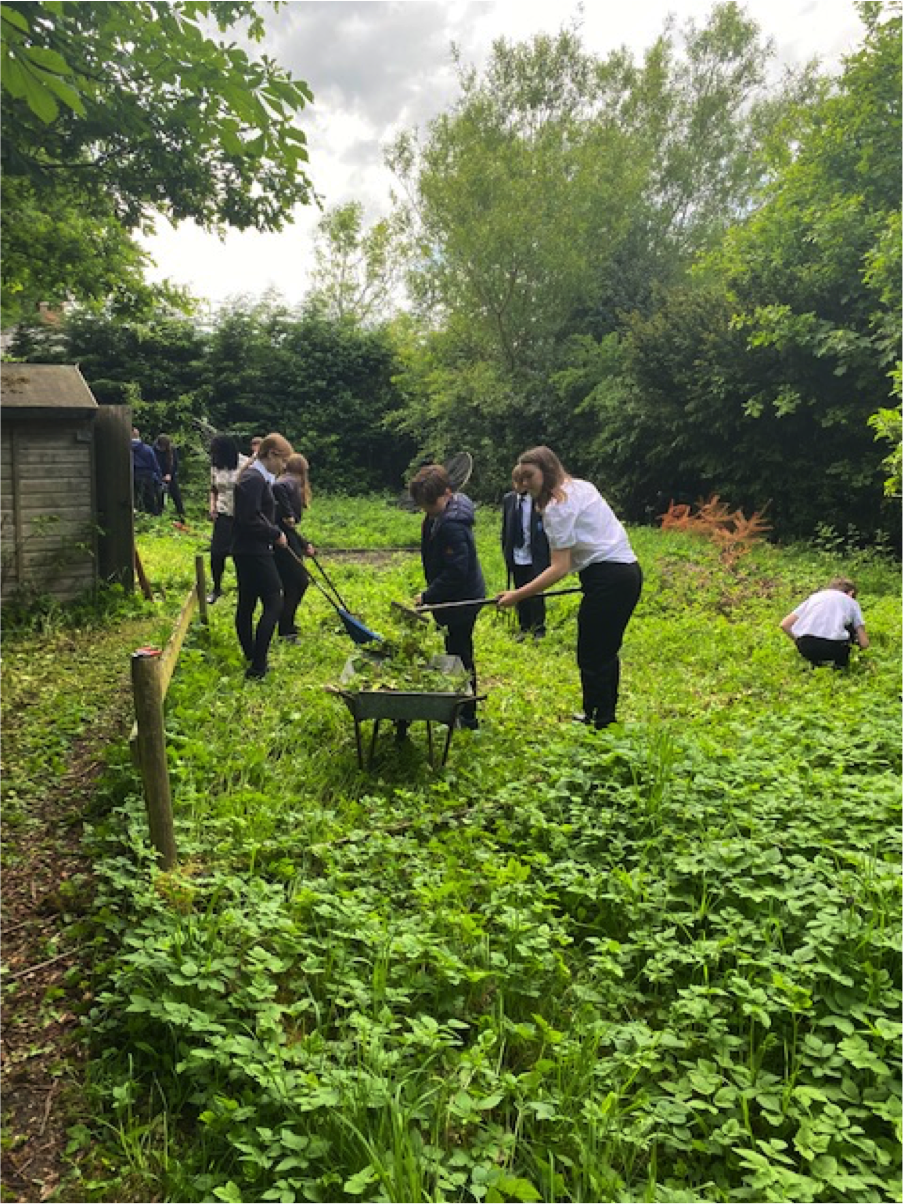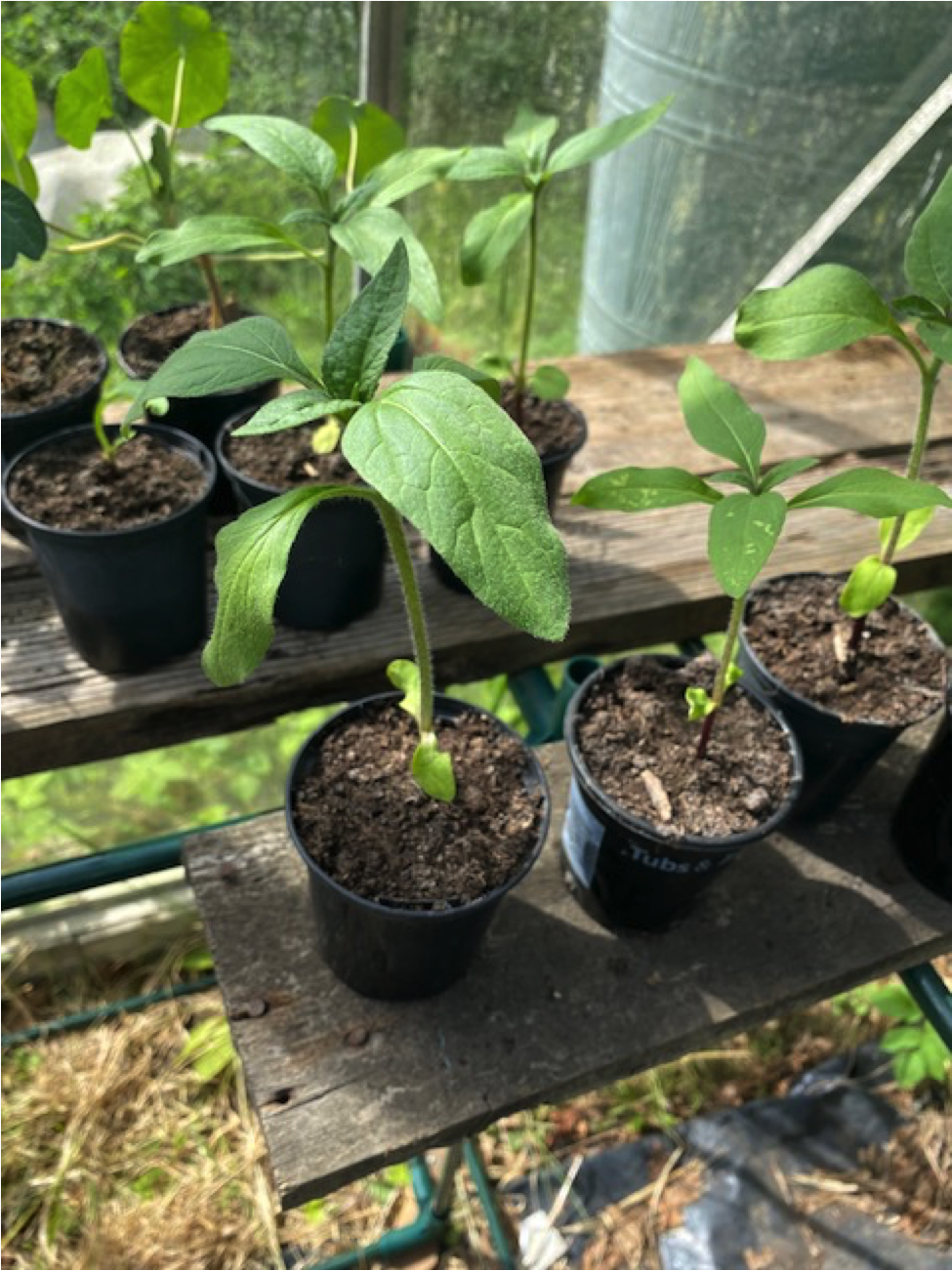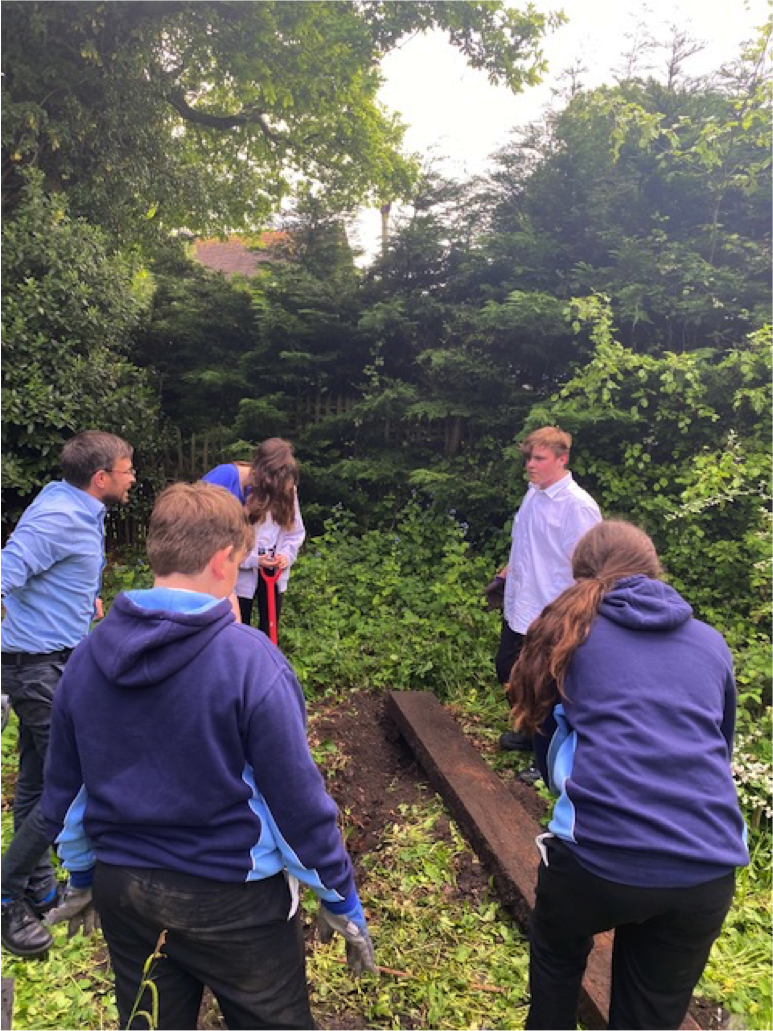 Gardening club is in full swing this month with everything growing nicely with the sunny weather we have been having. Year 11s have been helping to make the canes for the runner beans and these have now been planted out.
We are excited to see how these do and how many beans we get from them. Year 7s have been weeding the strawberry plants and making sure the carrots and beetroot are kept watered each week. This week, some year 7s started to plant some seedlings of flowers they had sown into bigger pots before they get planted outside. They have sown mint, lavender, hollyhocks and some foxgloves. Also planted this week, were some South African Squash plants that Ivan from the site team donated. Hopefully they will grow well so we can harvest a good crop from them.
There has been quite a bit of work this term as the veg plots had become fairly overgrown. Thanks to all the students who have put in a lot of work digging and weeding. It has seemed like a never-ending job at times.
We always need new members as there is a lot to do, so if any students want to join please come to the garden (at the back of maths) on Thursday after school at 3.25pm.
Mr Fitch
Sports Presentation Evening 30 June 2022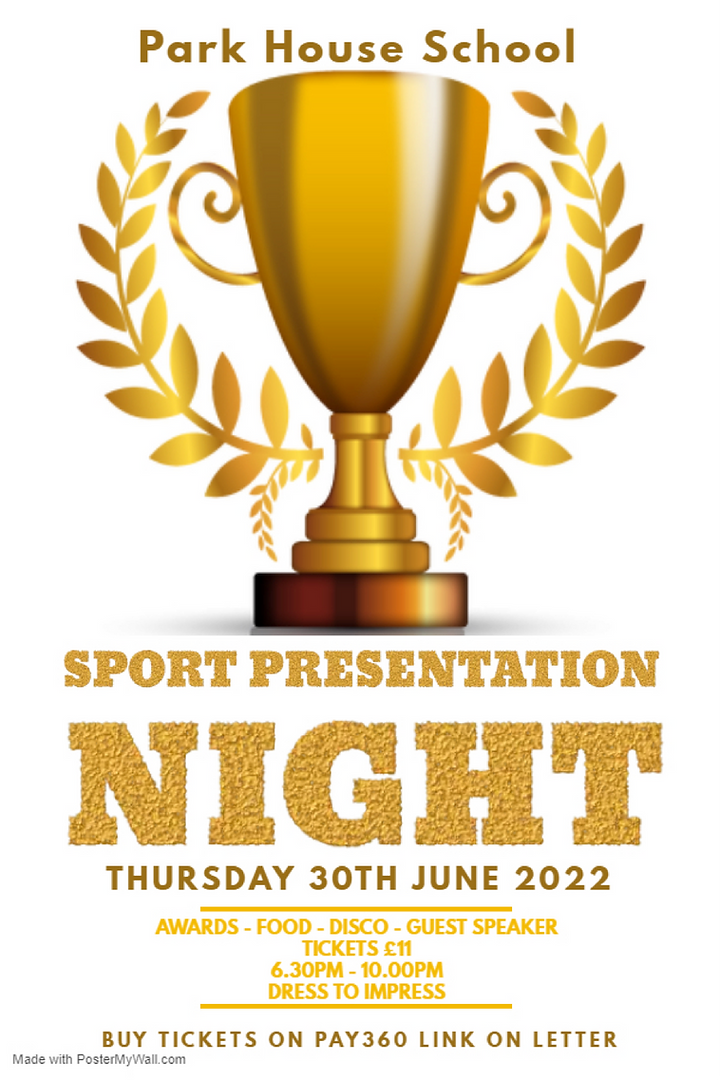 School Immunisations 29 June 2022
On Wed 29 June, the Year 9 students will be offered their routine vaccinations in school. These are for Polio, Tetanus, Diphtheria and Meningitis ACWY. Some students will also receive their MMR if they have not had it previously or have only had one dose. The course is two doses.
Some Year 8, 9 and 10 students will also be offered their HPV1 /HPV2 vaccinations, if they missed them previously. Parents/carers will be contacted about this by the school immunisation team.
Consent forms for the Year 9 Polio, Tetanus, Diphtheria and Meningitis ACWY are available for parents/carers to complete online. The link has been sent to parents/carers previously.
Parents/carers can contact the school immunisation team on 0300 365 0077 with any enquiries. I will be present on the day of the vaccinations but the school immunisation team are organising and running the session.
Many thanks, Andrea Kennedy - School Nurse
Congratulations to Finlay Whitehouse
Finlay qualified for the National Skills Diving competition which will be held in Leeds in July 2022. To do this he had to obtain a qualifying score at one of the regional competitions.
Hard work and training three to four times a week has paid off. Congratulations and well done. We wish you all the best for the National Competition.
Dan Tree
Year 7 Space Day
This week, Year 7 were off timetable for a STEM event in science. The students took part in a virtual reality workshop and various practical and creative activities all with a space theme.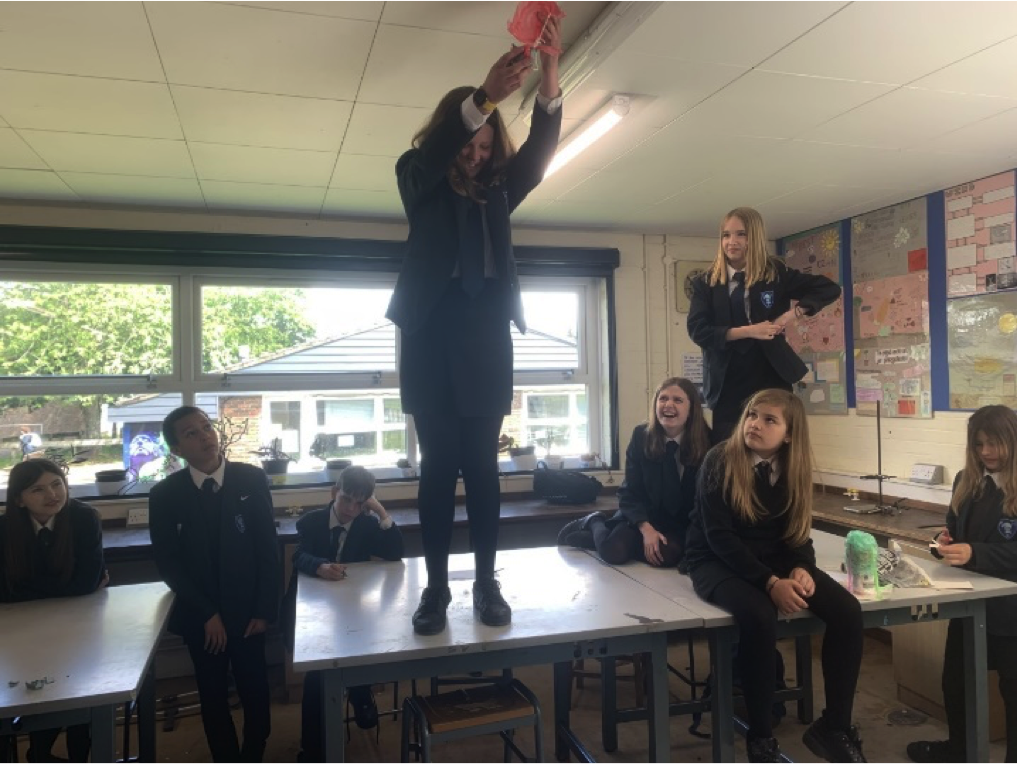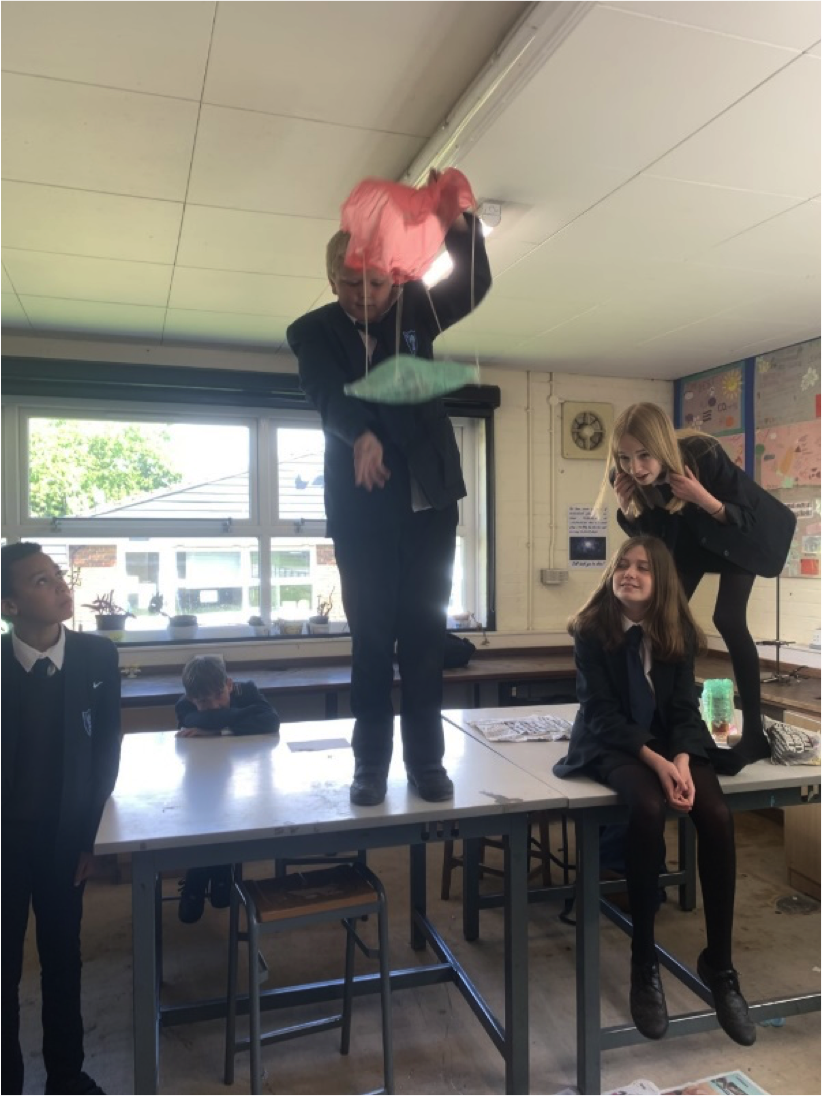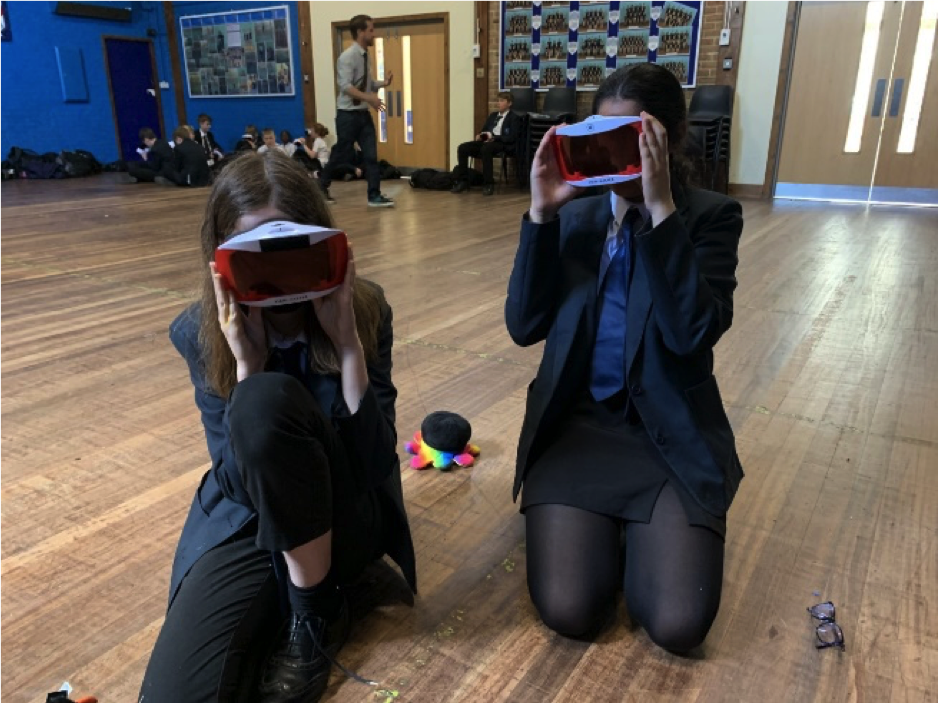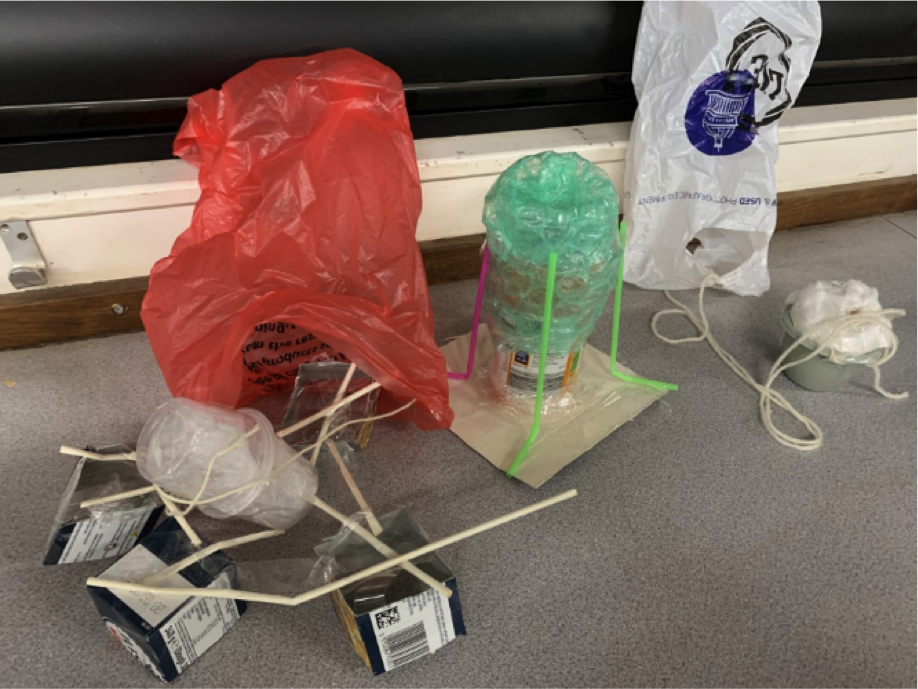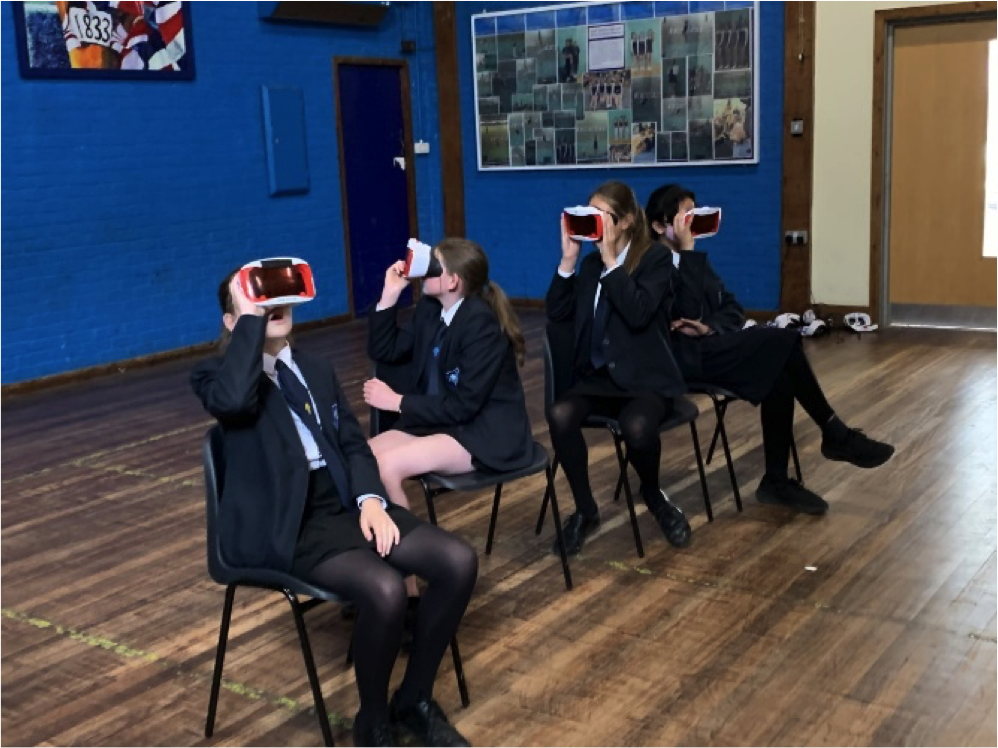 The students were well behaved and enthusiastic and really did us proud. We had some lovely feedback with one student saying 'the egg drop was the best'. Another commented that the only improvement would be to make it longer. We hope you enjoy seeing some of the pictures of their egg lander crafts, designs of exoplanets and the students enjoying the VR workshop.
Here is a white light spectrum that we were able to observe using the spectroscopes made by the students.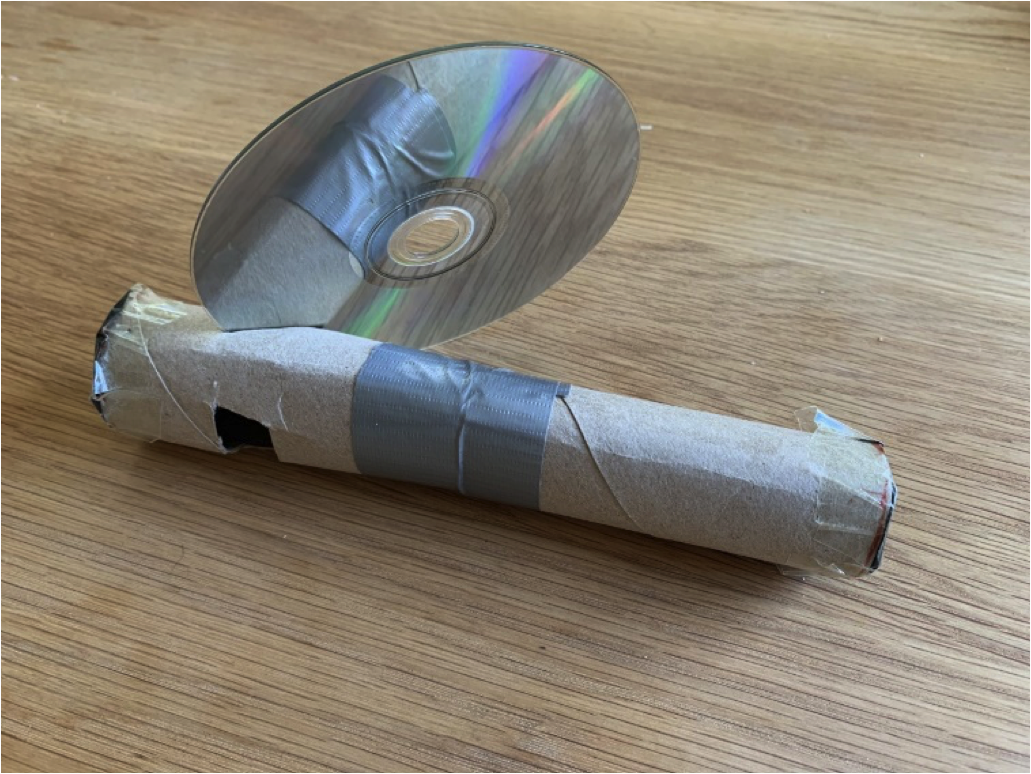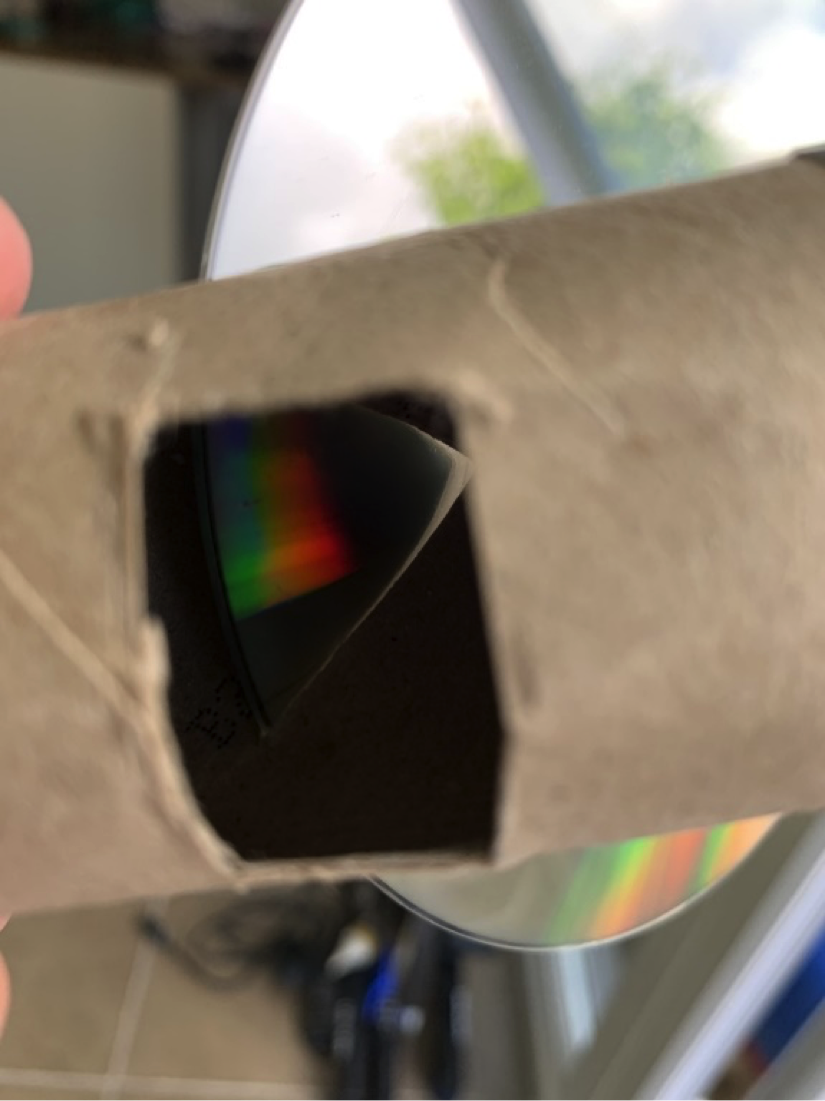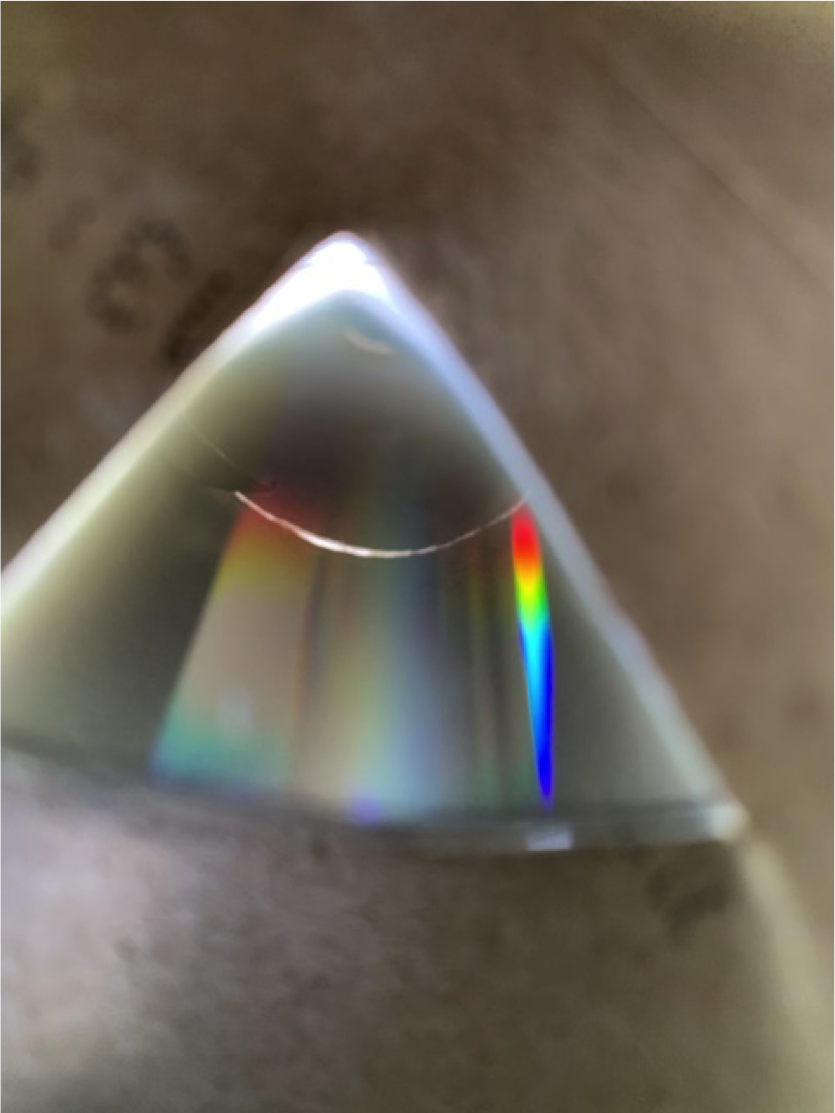 Duke of Edinburgh Award
Congratulations to 33 Bronze and 1 Gold Park House students who have completed their DofE Award over the last year at Park House.
The students have shown great resilience and perseverance to complete all their activities during the difficult times of Covid, as many of their activities were put on hold.
Maddie Wilde completed her Gold Duke of Edinburgh's Award and will be attending Buckingham Palace to receive her Gold DofE Certificate. An amazing achievement!
All the named students should collect their DofE Certificate and Badge from Ms Mitchell at the school's main reception, at a time that is convenient for them.
DofE participants who still need to complete their Award, please gather the three assessor reports (Physical, Skills, Volunteering) and upload them onto your eDofE account, you can still gain your Award!
If you are in Years 10 or 11 and have completed/or nearly completed your Bronze Award and you would like to enrol for Silver, please e-mail Linnhe Lay on llay@parkhouseschool.org
Year 9's rising to Year 10 in September will be contacted in late October on how to enrol for their DofE Bronze Adventure, all parents will receive an e-mail with the details.
Thank you, Linnhe Lay
Cricket Trip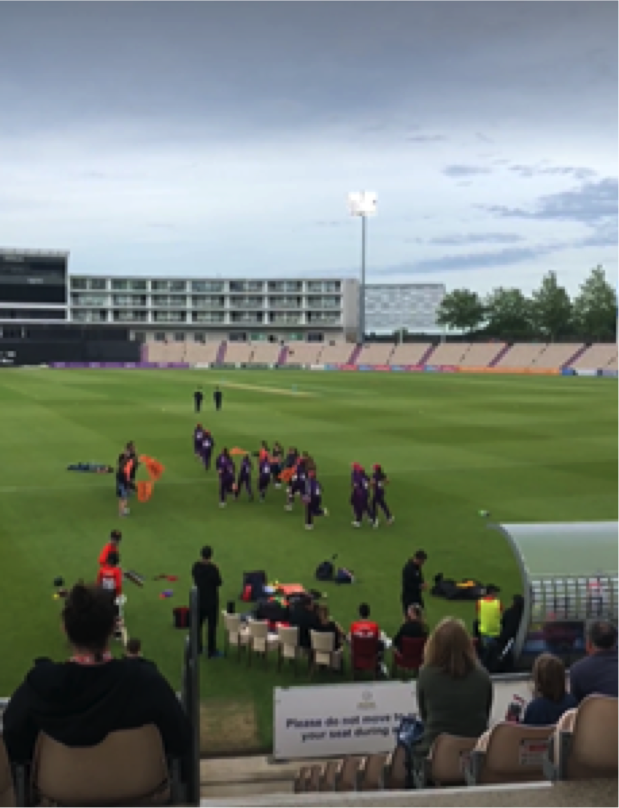 On 18 May the PE Department ran a trip to watch Southern Vipers vs Loughborough Lightning in their opening match in the Charlotte Edwards Cup. The 15 girls had a tremendous evening as they started the evening by taking part in a skills session with several members of the Vipers Academy players. They were then invited to form the tunnel that the players and umpires enter the pitch through and finally after the game, the girls got to meet the players and receive autographs.
Rosie Tregear
A Busy Week in Athletics
The first week of this term has been a busy one for our athletes. Congratulations to the following students competed as part of the Berkshire team in the Inter-Counties round at Bracknell Stadium on Saturday 11:
Ollie Denner - 3rd place Hurdles
Aston Howse - Awaiting confirmation of final position as this goes to press.
Louis Bissessur - 3rd Place in Heats 200m
Finley Plumpton - Awaiting confirmation of final position as this goes to press.
Lincoln Williams - Awaiting confirmation of final position as this goes to press.
Jack Liquorish - 3rd 300m
Ben East - Awaiting confirmation of final position as this goes to press.
Ellis Atkins - Awaiting confirmation of final position as this goes to press.
Tara Fitzgerald - Awaiting confirmation of final position as this goes to press.
Beth Palmer - 2nd Discus
Eddie Rushmer-Wilson has been selected for the Inter counties Multi-events in Crawley at the end of the month.
And it was finally the turn of Year 7 to show their athletic ability at both Quad Kids & District Athletics events, well done to all those competing and for many it was their first athletics competition.
Congratulations to Jack Denner & Estelle Kervella who have been selected for the U13 Berkshire Team to compete later this month.
Year 7 Quad Kids Team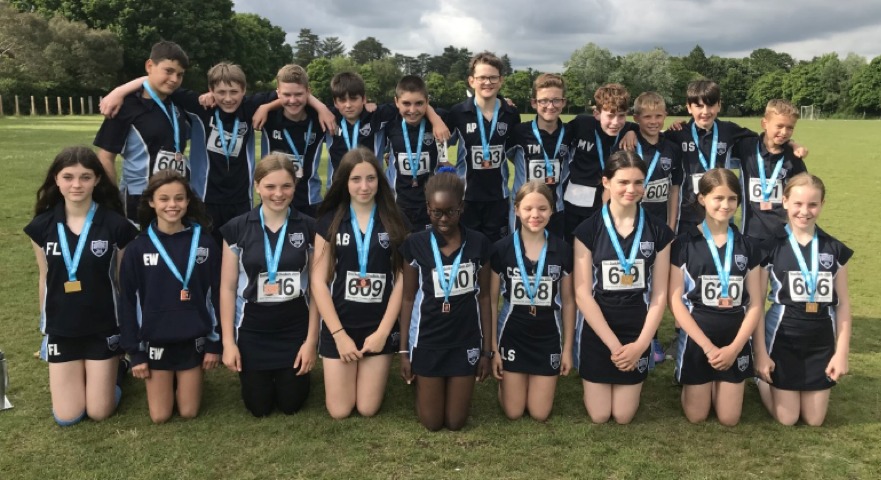 Year 7 District Athletics Team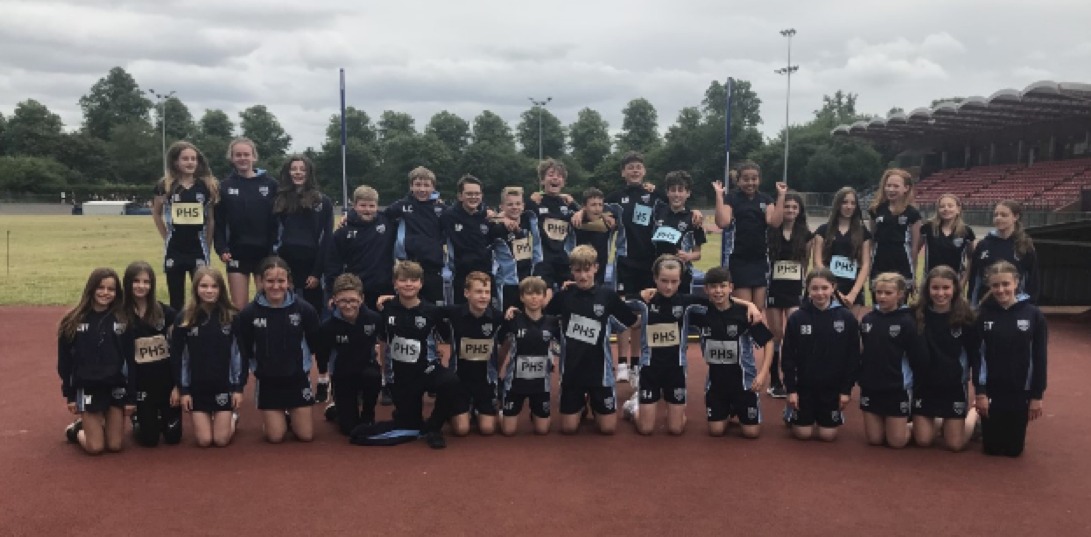 DEAR (Drop everything and Read)
As you will be aware Park House School operates DEAR (Drop everything and Read) which is scheduled at certain times of the day throughout the academic year. Its aim is to help improve literacy and thereby enabling our students to actively engage in reading and to enjoy the written word for future life.
It has come to our attention that books by the author Colleen Hoover which have been mentioned a great deal on TikTok have been a popular read, especially amongst Years 8 and 9. The reason for this letter is to highlight to you that the content of these books is sexually explicit and parents and carers may wish to consider whether this is age appropriate.
If your son or daughter is currently reading such literature we would advise that you encourage them not to continue and ask them not to bring these books into school to be read during DEAR but to bring more age appropriate books.
Your continued support of your son/daughter and of the school is greatly appreciated.
Mr Jones, Head of Year 9; Miss Snelling, Head of Year 8; Miss Herden, Head of Year 7
University of Southampton Linguist Days, June 2022
On Wednesday 8th and Thursday 9th June, small groups of PHS Year 8 and Year 10 students attended The University of Southampton's Virtual Linguist Day, along with 600 students from schools across the UK.
The event was an enriching experience for students, who enjoyed being creative and doing something slightly different to "normal" Spanish or French lessons.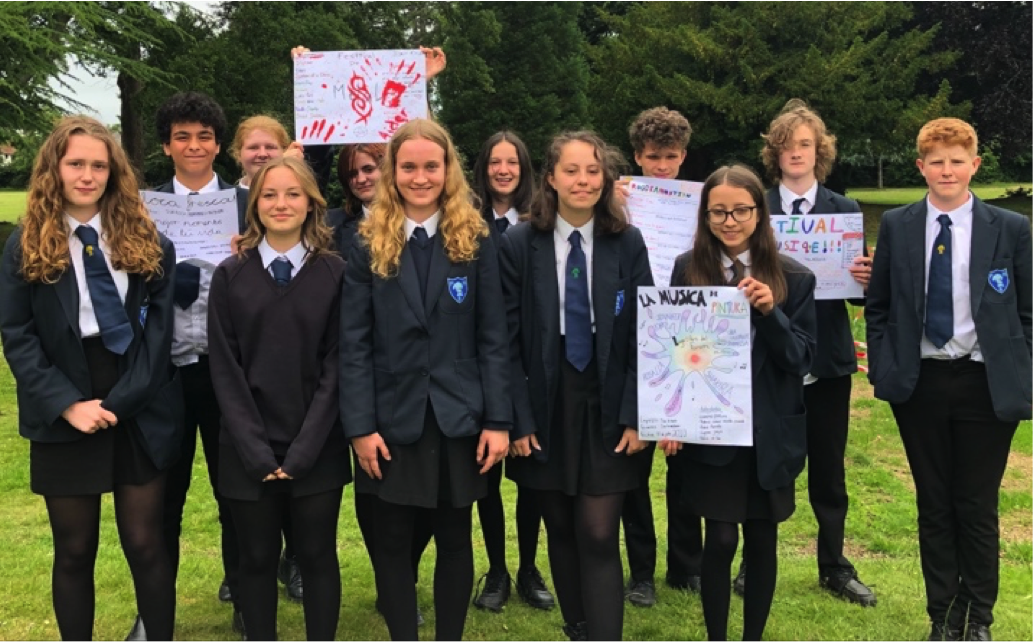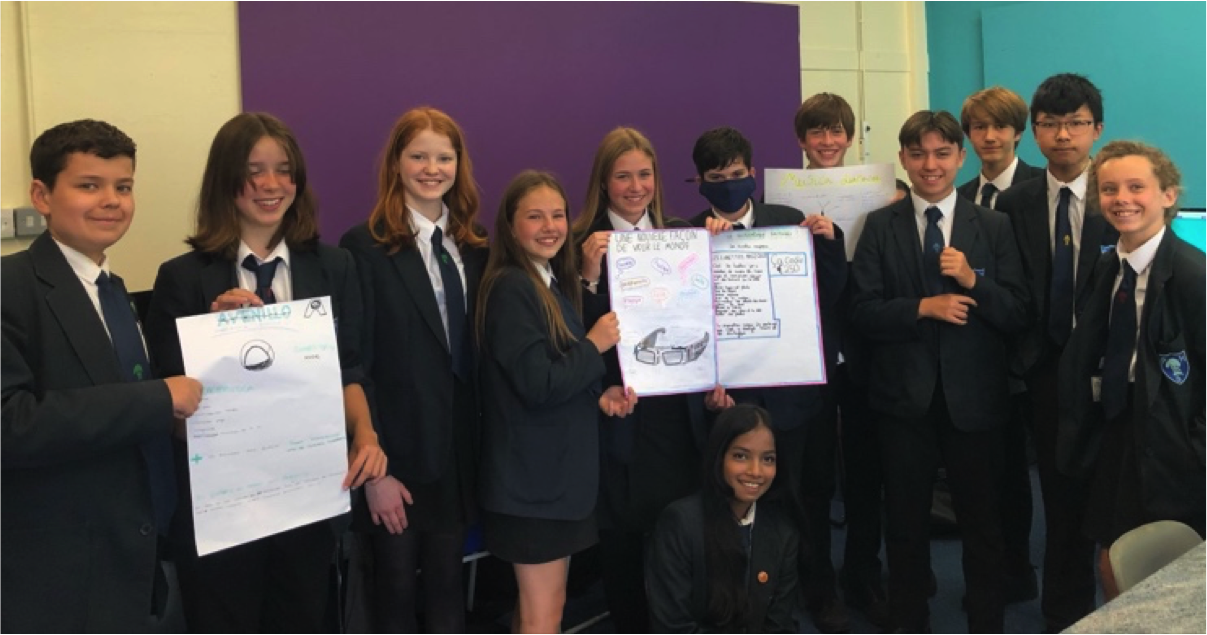 Students attended a language workshop lead by PGCE tutors, and later created posters all in the target language of French or Spanish. Students were able to see what other schools had created via the online pin board 'Padlet'.
Year 8 groups focused on the theme of technology and designed a futuristic and innovative new invention. Year 10 groups focused on the theme of music and organised a music event including artists, food and even wrote songs in Spanish!
During the final session, students were reminded by the inspiring Dr Lavery of the importance of languages in the UK, as well as the value of their own language skills.
Beth Knights
A-Level Art, Photography and Textiles Private View will be on the evening of Friday 24 June 2022
Early Closure 23 June 2022 and Race for Life 24 June 2022
Some of you will be aware of the sad news that the community faced before half term when we learned that one of our sixth formers had passed away.
The arrangements for his memorial service have now been confirmed and as I'm sure you appreciate, there will be a significant number of staff and students who will be attending this.
As a result, I write to you today to inform you that the school will be closing slightly early, at 3pm, on Thursday 23 June to allow all who want to attend the opportunity to do so.
Parents from older year groups may also remember the 'Race for Life' that we held annually in pre-Covid times. On the morning of Friday 24 June, we will be holding a similar event (Mrs Hawkins will send out more details on this in the near future) to raise money for some of the charities that do work related to the member of sixth form who has passed. We hope that you are able to support this with any donations you feel able to give.
I'm sure you join with me and the rest of the community in wishing the family of the young man who has passed away our heartfelt condolences and hope that the coming weeks pass as easily as are possible for them at this difficult time.
Mr Crabbe