Welcome back!
An update from the Principal.
After a break of several months I'm delighted to welcome you back to our regular parent newsletter. As you'd expect you'll find information from staff around trips, events, special days in school, revision classes, student achievements, and a whole host of other things which make working in a school the vibrant and rich experience it so often is. You'll also find communications from the PHSA and I would encourage as many parents and carers as are able to play their part in our school community.
I find myself writing an introduction from the Principal Teacher for the first time and I can't help but be reminded of the great semi-regular blog that Mr Peaple would put out where he would somehow relate some personal experience to his current thoughts on the school and education.
I hope to find my own style over the coming months and share something equally positive about the school on a regular basis with you all.
For this short and simple first introduction though I will simply reflect on the words of the late, great John F. Kennedy. When we returned after the February Half Term break I was inspired by the expressions of interest from staff, students and parents about contributing something in our own way to the unfolding humanitarian situation in Ukraine.
Our senior students have already put in place a charity drive to raise support through tutor groups and in time we hope to raise money through a non-uniform day to support the Red Cross' efforts in the area. Ask not what your school/town/country/planet can do for you indeed, ask what you can do for them.
Sailing Trip
For students of Year 8, 9 and 10. At the end of May, we will be holding our annual sailing trip with OYT south. Please download the information letter (with application form) for further details.
PHSA
Please join us at the next Park House School Association meeting on Tuesday 15 March at 7.30pm. We will be meeting in person at the school in The House but you can also join us via Zoom if you prefer.
The Zoom meeting details are:
https://zoom.us/j/94604544438?pwd=WXhvT2lyaTZ4UW5EZDFKbkVraXlNZz09
Meeting ID: 946 0454 4438
Passcode: yLqX67
Yr10 Parents Evening • 24 March 2022 • 16:30-19:30
Communications will be coming out early next week explaining how you will be able to book to see your young person's teachers. This parents evening will be face to face in the school, and we look forward to welcoming you on site. Keep an eye out for emails from 8694038@sims-communications.co.uk aka Mrs S Spaak
Debating Club
Come and join us for some debates on topics such as; legalisation of drugs, uniforms at schools, etc. Work on your debating techniques, skills and confidence to speak in front of an audience! We will be in PE1 Tuesday lunchtimes. Everyone is welcome! If you have any further questions don't hesitate to email Ben, the organiser of the club benh@parkhouseschool.org
Year 8 Options Reminder
Please would Year 8's remember to return their option forms by 15 March 2022. The year 8's were emailed a link to these reply slips.
Year 11 Weekly Revision Sessions
Please download our latest Year 11 lunchtime and after-school revision sessions timetable
Non-uniform day 18 March for Ukraine
The Senior Student Team are holding a non-uniform day on Friday 18th March to raise money for Ukraine. Students in Beech and Cedar should wear a yellow top and students in Elm and Oak should wear a blue top, as we aim to take a photo that mimics the Ukrainian flag. It will be the usual donation of £1, but students are welcome to bring more if they wish. Thank you! Rebecca Sheldon, Head Girl
Ukraine collection
Following the huge support of the Christmas Foodbank the senior student team would like support those citizens in the Ukraine who facing an uncertain future. Please look to support this by bringing the following items to school:
Thermoses

Toothpaste

Toothbrushes

Nappies (huge problem out there)

Baby wipes

Disposable gloves

Plasters and bandages.

Shampoo & soap

Gloves, hats for children

Ring pull tins of food must be in date.
There will be a prize for the tutor group in each year group who donate the largest quantity.
Food and Nutrition container request
Ms Morgan needs any large, plastic sweet, cracker or biscuits tubs please to enable us to provide containers to students who have forgotten or are unable to provide their own containers to transport their food home.
Period Products
If you need help with period products this month please visit www.periodbox.uk/request-an-all-yours-box/ and complete the form to tell us what you need. We will send out what you need in a free All Yours box.
You can request a box for yourself and your family members and we offer a range of products, including reusable products, to suit as many preferences and circumstances as possible.
All requests are FREE and CONFIDENTIAL. If you have any questions, please email allyoursmonthly@gmail.com
Mrs Kennedy-Compston
Class of 2022 Leavers' Hoodies
We are working with Fizz Hoodies to offer students a wonderful keepsake to celebrate their time at the school.
The Hoodies will have a large '22' print on the back, featuring the names of all students in Year 11, and will also feature an embroidered logo on the front. Students can pick from a variety of different Hoody styles and a wide range of colours.
All students have the opportunity to purchase a Hoody but it is essential that orders are placed in plenty of time so that they don't miss out.
To place an order, please visit https://shop.fizz-group.co.uk/
Our School Unique ID is: 26341YR11
Your order must be placed before 28/03/2022 – orders will not be fulfilled after this date and the school will not be ordering any spares.
Orders will be delivered direct to school and we will advise when they can be collected in due course.
Miss Wozniak and Miss Dee
Berkshire Maestros Trial Singing Lessons
Over the next few weeks, Kat Hitti, Voice Teacher, Berkshire Maestros will be offering FREE trial singing lessons.
UKMT Intermediate Maths Challenge
A massive congratulations to students who received certificates in this year's UKMT Intermediate Maths Challenge. Our Gold Certificate winners were:
Year 9 Anwesha Bhakta (Best in Year)
Year 10 Michael Bunney
Year 10 Maya Mouzouris Marzetti (Best in Year)
Year 11 Henry Gray
Year 11 Harry Burt
Year 11 Aidan McManus
Year 11 India Farrant
Year 11 Samuel Knight (Best in School)
Ski Trip – Artesina 2022
78 students, 12 staff and 1 epic week away skiing! It was so good to get away after a turbulent couple of years. The weather was idyllic, the skiing was awesome, and the students were an absolute credit to the school.
Check out the next edition of Personal Best for more pictures, stories and quotes from the trip!
Mr Thorne


Requests for PE kit donations
We are always grateful for donations of any PE kit that students have grown out of and we particularly need shorts and polo shirts.
Year 7 Netball
It's been fantastic to be back with fixtures. The Year 7 ladies have started their league campaign and are working hard to put their training into practice during our matches. They played their socks off in a friendly against JOG and are ready for postponed league matches as we go to press. Congratulations ladies - lots of exciting opportunities ahead!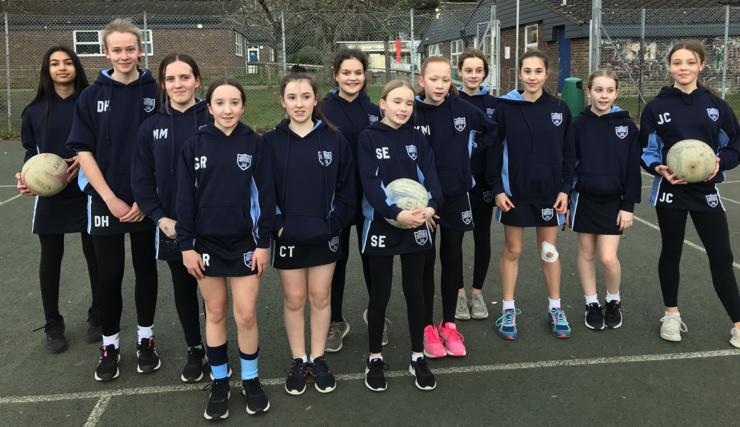 Year 7 Football Team knocked out of County Cup in Outstanding Game
Our Year 7 football team are outstanding - from the first game this season they have played football on the floor and with their heads up.
They easily won their first County Cup fixture earlier in the year and travelled to Brackenhale in Bracknell Forest with a growing reputation. We dominated the opening 15 minutes of the game with Harry Joyce, Bethany Butt and Oliver Seymour excelling at putting the Brackenhale defence under pressure without us ever getting an excellent goalscoring opportunity. Luca Clarke had his best game yet at the back for us. Brackenhale came more into the game as it progressed and started the second half very strongly with substitute goalkeeper Charlie Clipston making a couple of fine saves before Brackenhale scored the only goal of the game after an error at the back.
This team has the potential to be very good and we are excited to see how they are playing when we move to 11-a-side next year.
Year 7 Football Tournament at Trinity
The Year 7 B and C teams enjoyed their second set of fixtures at an enjoyable 7-a-side tournament at Trinity. All the boys got lots of game time and played against all the local schools Team 1 eventually finished 2nd in their group, whilst Team 2 finished joint 3rd. Notable performances were from Archie Taylor, Mackenzie and Riley Foulds. Well done to all involved.